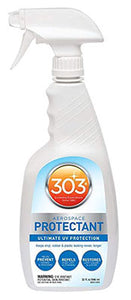 303 Space Age Protectant - 32oz
303 UV Protectant brightens surfaces and keeps them looking newer, longer. This formula is great for use on your hot tub vinyl cover, extending the life with regular applications

303 UV Protectant not only protects against fading, discoloration and cracking from harmful UV rays, but repels dust and stains too helping to extend your cleaning.Powerful UV blockers

Rinse-free formula leaves a non-greasy, dry matte finish with no odor and is non toxic and water based. 100% free of grease-producing silicone oils and petroleum distillates.