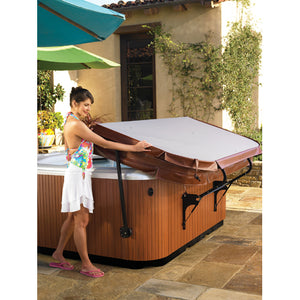 Hot Spring Spa Cover Lifter, UpRite
Designed for installation on the following models:  
Hot Spring: 2004-and-newer Vista, Envoy, Aria, and Accolade, 1997-and-newer Grandee and Vanguard, 1996-and-newer Landmark, Sovereign, Sovereign LE, Prodigy, Jetsetter.
Tiger River: 2003-and-newer Caspian, 1997-and-newer Bengal, Sumatran, and Siberian, 1996-and-newer Khyber and Manora.
Limelight: 2008-and-newer Pulse, Flair, Glow and Bolt.
Hot Spot: 2003-and-newer La Palma, Mallorca, Sorrento, Trinidad, Tobago and 2010-and-newer Tempo, Rhythm, Relay.
Please note the UpRite is not an option for the Hot Spot SX.
pn 37876